You are here
St. John's Anglican Church
St. John's Anglican Church
The original church on this site was consecrated in July 1850 (construction 1847-1850). It was funded in part by honourable Nova Scotians H.H. Cogswell and J. Inglis Haliburton, Esquire.
The present church was the second building built by the Anglicans. Plans for the new church were drafted as early as 1881. The new building was completed in 1885 and the church was consecrated on April 26th, 1885. The villagers carried out most of the handiwork. Originally this Gothic church, complete with a tall slender spire and lancet windows, had a red roof and a white board and batten exterior.
Today the restored church's roof is a muted grey-red. Inside, the church features a decorated altar and two side panels painted by noted Canadian artist William DeGarthe. The panels were installed in 1963. The Rt. Rev. W.W. Davis, Bishop of Nova Scotia, presided over the dedication ceremonies. One mural portrays Christ walking on water and calming the sea (Peggy's Cove). The other shows a group of fisherman at the mercy of a violent storm. "Man may change the Cove at will With dwellings, houses, stores - and still The aged old rocks ... of eons born Will stand, and man may pass forever go ..." William DeGarthe.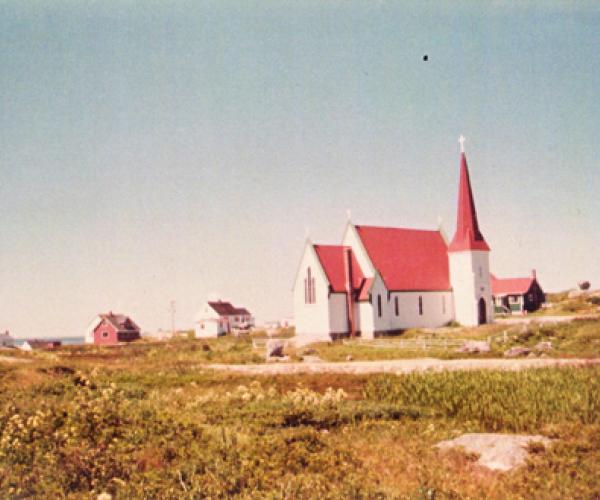 County:
Province:
Property Type:
Herititage Designation:
Reason(s) for Designation:
Municipal Heritage Site as designated on February 22, 1993. The designation encompasses both the church building and the land on which it is located.
Public:
Full Address:
8 Church Road Peggy's Cove Nova Scotia
Geographic Location:
Latitude: 44.4948 Longitude: -63.9164
Construction Details:
Construction Date: ??-??-1850 Builder Name: John Inglis
Current Owner:
Anglican Diocese of Nova Scotia