You are here
St. John's Anglican Church
St. John's Anglican Church
St. John's Anglican Church is the second oldest Anglican Church in Canada. This 'Carpenter Gothic' church, originally a Georgian style building, was built in 1754 when the Lords of Trade and Plantations (British colonial government administrators) granted 476 Pounds for its construction. The timbers arrived from Boston on an anon of war. The builder was Conrad Lord, son of U.E Loyalist.
The Church was not completed until 1763, when an additional 259 Pounds was granted by the Society for the Propagation of the Gospel. St. John's Church was attended not only by the local Anglicans but also the Lutherans and Presbyterians as it was the only place of worship in Lunenburg.
It originally had an interior balcony on three sides, a 28 foot high plastered ceiling and a small round tower with a conical cap. In 1840, the original tower was replaced by a new 12 ft. square and 70 ft. high tower with gothic style pinnacles at its four corners designed by William Lawson, local schoolmaster.
Further alterations were made 1870-75 in an attempt to "Gothicize" its appearance. Architect David Stirling was chosen to rebuild St. John's. The church was moved 25 feet westward to where it is presently located. A chancel was added, the tower was rebuilt and dressed anew with pinnacles connected by rows or arches, the nave was widened and hooded lancet windows were installed. The flat plastered ceiling was replaced by a hammer beam structure and the new ceiling was painted a deep blue with gilt stars. The nave walls were painted light blue with gold lilies. Noted Halifax architects Sterling and Dewar oversaw these Gothic changes in the church.
In 1892, further architectural additions, designed by Solomon Morash, were made. The side aisles were added, the chancel was enlarged, the main supporting timbers of the building were encased in marbleized octagonal pillars and a galvanized roof was added. The church featured stencilled walls and a painted ceiling (oil and gold leaf on wood c.1870)which are attributed to parishioner Mr. Page. The nave hosts marbleized columns, blue-green veins on light buff, also attributed to Mr. Page.
Unfortunately, St. John's Anglican Church was devastated by a fire November 1st, 2001. Over 50 percent of the historic fabric was lost to arson. Following a four year detailed restoration the church was returned to its pre-fire appearance. The painted surfaces were restored by local artist Julie Jayne Coolen.
In order to accurately reproduce the gilt star ceiling, Mrs. Coolen looked to past photographs of the artwork. She also turned to Dr. David Turner, Professor and Astronomer at Saint Mary's University in Halifax, NS for assistance.
From close examination of old images, Dr. Turner discovered that the 700 gold stars were strategically positioned. He found a prominent group of stars in the easternmost panel that represents the Northern Hemisphere constellation of Perseus, which no longer swings through the eastern portion of our night sky. Only if one goes back more than 2000 years in time does one see the stars of Perseus as they appear on the Chancel ceiling. Dr. Turner determined that the exact pattern of the stars depicts the Lunenburg sky as it would have appeared at sunset on December 24th in 1 B.C., the traditional birth date of Jesus Christ. The ceiling stars also depict the stars of the Pleiades, the Great Square of the constellation Pegasus, Ursa Minor (The Little Dipper), and Polaris, the North Star. Segments of other constellations such as Andromeda, Pisces, and Draco are also visible.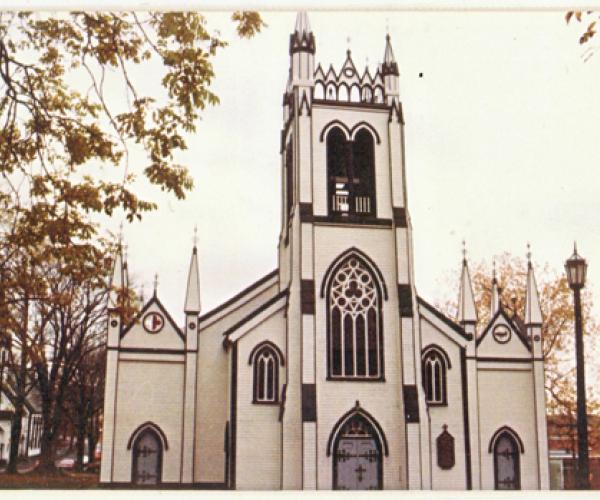 County:
Province:
Property Type:
Herititage Designation:
Reason(s) for Designation:
St. John's Anglican Church is valued for its age, its association with the history of Lunenburg and the South Shore region of Nova Scotia, its interior and exterior architecture, and its recent restoration. Provincial Heritage designation was awared on March 11th, 1983. St. John`s Church was deemed a National Historic Site in 1994. As of 2004, St. John's Church was included in the World Monuments Watch list of 100 Most Endangered Sites.
Public:
Details:
Regular Services Wednesday 10:00 am Sunday 8:30 am & 10:30 am Church is open to visitor all summer long
Full Address:
81 Cumberland Street Lunenburg Nova Scotia B0J 2C0
Geographic Location:
Latitude: 44.378 Longitude: -64.3119
Construction Details:
Construction Date: 1754 Builder Name: Conrad Lord,
Current Owner:
Anglican Diocese of Nova Scotia