You are here
Margaree Inn
Margaree River View Inn (formerly Margaree Lodge): The Riverview Inn property features a small Gothic house to the far right of the land built by Sam Campbell, a former prominent landowner in the Margarees. Mr. Campbell moved from Mabou to Margaree in 1836 but it's unlikely the house was built before 1850.
Oral history tells us the building was originally used as a farmhouse. Between 1900 and 1914, Campbell's son Dougall converted it into a hotel—the only one in the area. It was a small but lucrative business, attracting travelers from Canada, the United States and England. Dougall died in 1914 and two years later, his daughter Mary Ann sold the property to New Yorker J. Foster Sandford, a partner in an insurance firm, who had previously visited the area. He converted the property back into a farm and rented the house to farm workers. He built the adjacent bungalow for his family. Mr. Sandford later returned to New York and hired a innkeeper to maintain the property but he eventually sold it to Senator Donald MacLellan of Sydney, NS. MacLellan struggled with the farm and sold it to the owner of the Glace Bay Garage, Danny Campbell, who turned it into a successful tourist destination. Mr. Campbell fell upon hard times after his wife Vida died and sold the property to Dr. Wilford (Bill) MacIsaac and his wife Theresa in 1952. The couple expanded the property to grow the hotel. They built a two-room addition on the back of the original house for the hotel staff. Werner Buchhofer, a German business man, bought the property in 1997, kept the inn open and spent the years between 1998 and 2002 restoring the old farm house. He won an award for his accomplishments in preserving heritage (more details) The ceiling in the right front room of the house features painted stencil work with geometric and floral motifs in shades of pink, purple, cream and green with gilt details.
The artwork was likely done by an itinerant painter for room and board. Although there is no clear documentation, it is assumed that the artwork was completed at the turn of the 20th century. The painted ceiling, although still impressive, wears the ravishes of time. The ceiling boards have warped, cracks and holes are found aplenty and the unvarnished artwork has been bleached by the sunlight around the window frames.
Mr. Buchhofer once used the home as a small antiques shop. The house, although still inhabited by various antiques and collectibles, is vacant save for the hand full of rodents and insects which have nested within the walls, cupboards and drawers.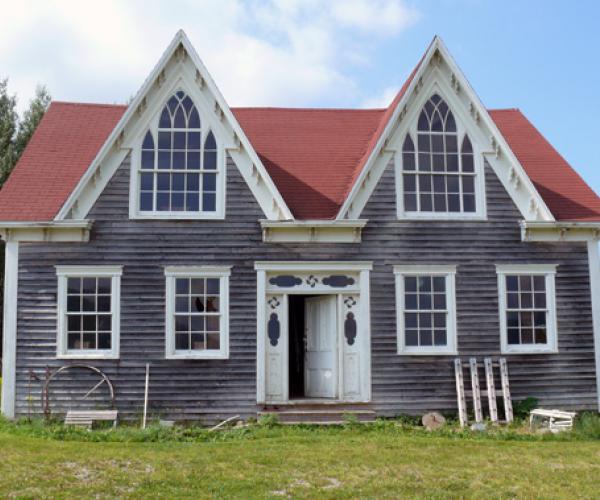 County:
Province:
Property Type:
Public:
Full Address:
Route 19 Cabot Trail Margaree Forks Nova Scotia B0E 2A0
Geographic Location:
Latitude: 45.9735 Longitude: -61.5294
Construction Details:
Construction Date: 1880 Builder Name: Sam Campbell