You are here
East Hants Museum

East Hants Historical Society Museum (forner Lower Selma-Noel Shore United Church)
The Classical Revival church was built in 1865 by William Wiswell of Halifax with the aid of James Corston of Halifax and Gilmore McLellan of Noel Shore. It opened its doors on September 24th of that same year and was originally named the Lower Selma Presbyterian Church.
In 1925, it amalgamated with the Methodist Church and became part of the United Church of Canada as the Lower Selma United Church. Due to a dwindling congregation, the church closed in 1967. It remained vacant until 1981 when members of the local historical society acquired the property and use it to house a small museum.
The East Hants Historical Society Museum pays the nominal sum of $1 per year in rent. On July 7th, 1990 the museum and its grounds were designated a Municipal Heritage Property. The walls and ceiling of the museum were painted in 1881 by Lewis (Louis) Baillie (Bailey) of Newport using tempera paint and feathers. The walls are adorned with painted arches comprised of faux marble blocks in varying shades. The ceiling features a large blue circular scroll painted in the centre. A light parchment-coloured scroll motif borders the ceiling's edges. The paint is water-soluble.
There is no protective coating applied to the painted walls, (e.g. varnish) which contributes to the freshness and vibrancy of the colours. Consequently, some fading has occurred to the painted surfaces nears the windows due to light damage.
The artist used feathers to create the marbled effect on the walls. The design was marked on the wall in carbon pencil and there are still areas where the artist did not fully cover his drawings. The paint is applied over two layers of plaster; one was likely poorly mixed, exposing clay pockets, giving an overall speckled appearance. Over top is a layer of finer white plaster of variable thickness. This layer also has inclusions, adding texture to the painted surface. The walls were likely kept whitewashed or unpainted in the years before they were decorated.
There is neither biological damage nor rodent or insect damage. Man-made damage consists mainly of scratches and holes made in the plaster for hooks and nails. The most significant damage can be seen on the Northern wall (altar) of the building and the ceiling. Large chunks of plaster have fallen off of the walls and are now held up with plaster washer about the size of quarters. Parts of the ceiling have also fallen and repairs using new plaster and in-painting have been made. Paint has been blanched significantly.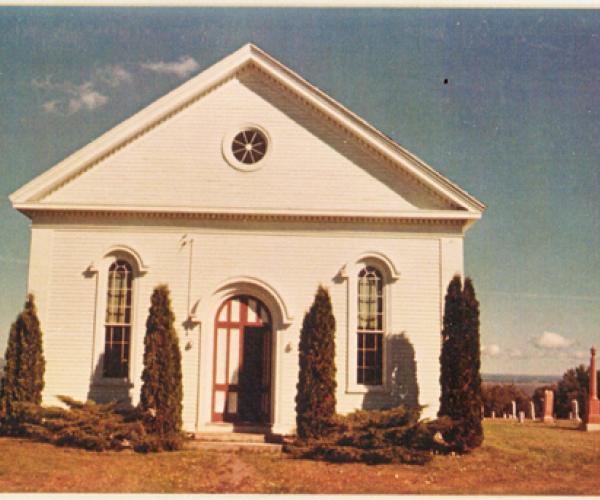 County:
Province:
Property Type:
Herititage Designation:
Reason(s) for Designation:
The property was designation a Municipal Heritage Property on July 7, 1990.
Public:
Details:
Museum is open from June to September
Full Address:
6971 Rte, 215 Selma Nova Scotia
Geographic Location:
Latitude: 45.3134 Longitude: -63.6055
Construction Details:
Construction Date: ??-??-1865 Builder Name: Wiliam Wiswell and James Corston
Current Owner:
East Hants Historical Society