You are here
Charles MacDonald House

Charles MacDonald Concrete House Museum
Charles Macdonald was born April 5th 1874 in Steam Mill (Centreville) Nova Scotia. Charles was the son of orchard keeper Nathaniel Macdonald and grandson of minister Rev. John Macdonald. As a young child, Charles demonstrated early artistic abilities and poetic sensibilities. As a youth, Macdonald kept many sketch books filled with familiar scenes; local landscapes, homesteads and animals studies.
At the age of 15, Charles left school to work locally at Woodman's Coffin Factory, then, as a wheelwright and wagon maker apprentice at the Nova Scotia Carriage Company.
In 1989 Charles went off to sea as a ship's carpenter in order to experience the world at large. While aboard, he had plenty of spare time to work on his sketches and paintings. On a four month voyage to Brazil, Charles created a photographic album of the local architecture he encountered. He noted in particular a compact Spanish blockhouse that caught his eye. This building may have served as an early prototype to Charles's concrete house.
After a trip to England, Charles was inspired by the work of Sir Edwin Landseer, an artist who rendered animals in appropriate Victorian style. In 1902, Charles returned to Canada. Between 1908 and 1910 Macdonald lived in Vancouver where he joined the Socialist Party of Canada.
He returned to Nova Scotia in 1910. In the years of the First World War, a greater need for concrete arose. As a result, Charles established a cement brick factory in Steam Mill. Macdonald considered wood to be inferior to stone and brick; he saw more beauty and utility in concrete as a building material.
In order to build a sound structure Charles Macdonald consulted A.A. Houghton's Concrete Worker's Reference books. In 1916 he married Mabel Misner of Chipman Brook. The couple moved into the concrete building and relocated the brick factory to nearby Brooklyn Street. Inside, Charles took great pleasure in creating most of the furnishings and ornament work in concrete. The central hearth was fashioned in concrete and adorned with bas-relief paintings. The over mantel was dressed with a painted depiction of an Indian couple building a fire. The hearth as a whole is skirted by bas-relief depiction of animals, pheasants, fox, squirrels and rabbits which are painted in a bright yellow. The animals are seen resting and frolicking in the green and yellow grass. Charles also created a narrow set of spiral stairs that lead from the first floor living room up to the second storey. The stairs seem to unfold from a decoratively painted newel post, complete with a sculpture of a nude indian maid.
In the 1930s depression era when work was scarce, Charles decided to head up a few miles north to Huntington Point where he would build summer cottages for his employee partners at Kentville Concrete. He fashioned five concrete 'teapot' cottages in an improvisational manner.
To date, only four cottages remain. The blue cottage is owned by the Charles Macdonald House of Centreville Society . (see separate listing for cottages). Charles Macdonald passed away May 28th,1967, leaving the concrete home to the community of Centreville, Kings County, NS.
By 1995 the property was in great need of repair. Martha Crosby, a local active heritage enthusiast collected funds in order to purchase the house from the town. She successfully collected 500$ from ten local citizen, and a down payment was made. The Charles Macdonald House of Centreville Society has managed the property even since. Today the house is a museum which features the artwork of Charles Macdonald.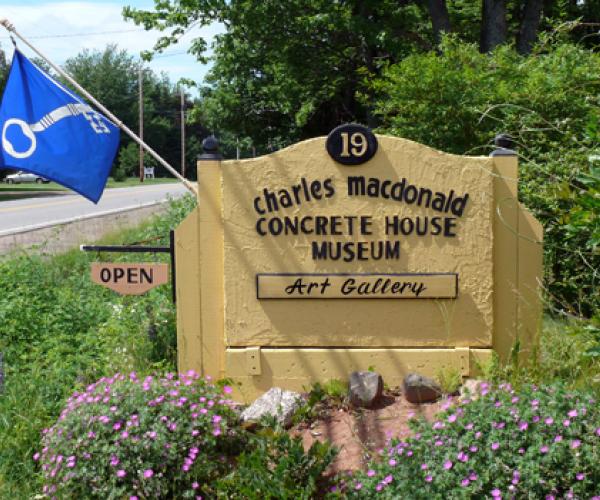 County:
Province:
Property Type:
Herititage Designation:
Reason(s) for Designation:
The Charles Macdonald Concrete House Museum is valued for its association with the artist and builder Charles Macdonald whose approach to art and building materials produced unique architectural statements. The Provincial designation includes the house, land, art work and garden features.
Public:
Details:
The Museum is operated by the Charles MacDonald House of Centreville Society, with assistance from the Community Museums Assistance Program of the Nova Scotia Museum, and the County of Kings. The Charles MacDonald Concrete House Museum is open to visitors during the summer months. Admission is free. (902) 678-3177.
Full Address:
19 Saxon Street Centreville Nova Scotia B0P 1J0
Geographic Location:
Latitude: 45.1261 Longitude: -64.5225
Construction Details:
??-??-1910 Builder Name: Charles MacDonald