You are here
Young House
The late Victorian home was built in 1876 by Alexander Silver Senior. It is speculated that the house may have been constructed as a wedding gift for Mr. Silver's son. Nevertheless, for the next 34 years or so the home would see many different owners.
In 1912, Foster and Margaret Young, grandparents of current owner Mrs. Margaret Coolen, acquired the property. The house was later passed on to William and Annis Zink, aunt and uncle of Mrs. Margaret Coolen. In 1967 Mrs. Coolen's father, Fredrick Young, inherited the property and in 1992 the home was passed on to the current owner, Mrs. Margaret Coolen. As a result of a few years of vacancy the home suffered natural damages and decay. In 1998, Mrs. Coolen and her daughter, Julie-Jayne Coolen, began undertaking restorative tasks in order to preserve the home.
Julie-Jayne was a trained artist and as such, she personally shouldered the responsibility of artistic restoration and re-creation. The pair successfully restored most of the home with the assistance of Mr. Allen Penny, a historical architect based at the Dalhousie University. Workers from John Ramsland Construction Ltd. Dayspring, NS were also hired to help. The kitchen, the lady's parlour, the office and the entire second floor were skilfully restored and renovated.
To date they maintain the structural and historical integrity of the late Victorian period. The colour palettes are appropriate to the era and the wallpaper and stencil designs are all based on Victorian motifs.
In 2001, Mrs. Coolen and her daughter received and honourable mention (second place) in the Historical Restoration category of the Nova Scotia Home Awards competition. To date, only the front parlour and the front hall retain their original painted surfaces. It should be noted that the small late Victorian home also features some interesting architectural elements such as an enclosed quarter-turn staircase complete with coffin door, bi-fold panel doors and a raised sitting area in the second storey five- sided Scottish dormer.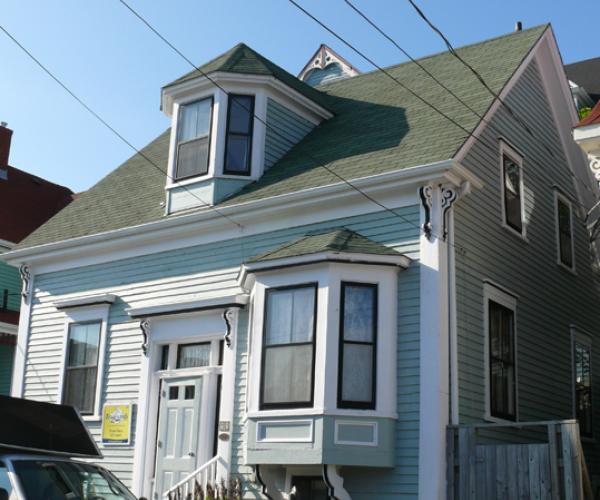 County:
Province:
Property Type:
Herititage Designation:
Reason(s) for Designation:
Municipal Heritage designation was awarded in June 2001.
Public:
Construction Details:
Construction Date: ??-??-1876 Builder Name: Alexander Silver Senior