You are here
Quinn House

This property was sold in 1929 to George K. Matter, father of the previous owner Charlotte Matter. Mrs. Matter's father bought the house from Senator Owen Quinn, son of Felix P. Quinn, a native Irishman and manufacturer of Ginger Beer in Halifax.
The hand painted wall frieze in dining room was done for Senator Owen Quinn sometime in the 1920s. The artist is unknown (itinerant). The series of paintings depict classic scenes from Ireland , including a picturesque scene of Blarney's Castle.
The home is now owned by Mr and Mrs McDonald. (Joyce McCulloch's notes) Heritage Trust of Nova Scotia, under the leadership of member Joyce McColloch, arranged funding to repair and conserve a section of the wall painting that was damaged by a water leak from the second story bathroom.
Michelle Gallinger, an experienced conservator and board member, was brought in complete the task and over the course of a two week period, her painstaking work to restore and conserve the damaged area of the mural was documented by video.
This resulted in the creation of a DVD documentary entitled Rooms With A View: The conservation of the unique painted walls in Nova Scotia.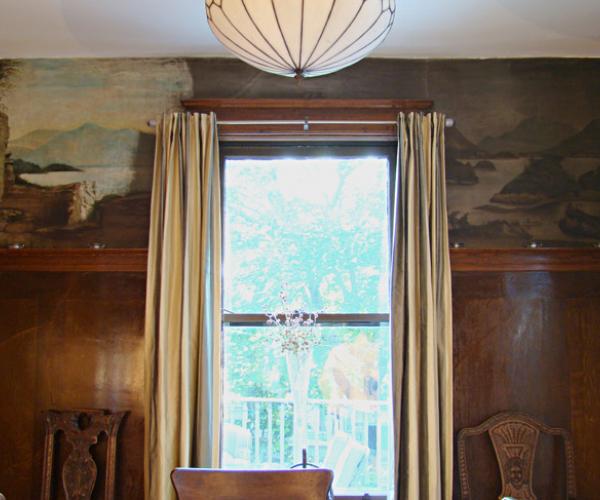 County:
Province:
Property Type:
Herititage Designation:
Public:
Construction Details:
Construction Date: ??-??-1912 Builder Name: