You are here
Goduto Residence

The Goduto home features the painted artwork of Alfred Goduto, an Italian immigrant who came to live and work in Sydney, NS Canada in 1956. The modest home hosts two elaborately painted rooms, the front left parlour and the dinning room.
The dining room ceiling and walls were painted in 1971 and the parlour was painted approximately two years later.
As Mr. Goduto worked long hours in the construction business, most of the painting was done in the evenings or throughout the weekends in his spare time. In order to successfully accomplish his artistic vision, Mr. Goduto fashioned his own stencils and traced his designs in chalk directly on the plaster before painting over them. He employed the European carton method of stencilling for which only one stencil is required. The front parlour walls are adorned with stylized columns, floral motifs, and a decorative border that flanks the ceiling.
This border is comprised of various panels with repeated paterns and Victorian designs. The border also features four painted scenes, one on each wall, which depict the four seasons. On the parlour ceiling, the focal point of the room, is depicted the Madonna and Child with St. John the Baptist.
Mr. Goduto may have been influenced by the lavish religious art of his native country, Italy. The dinning features a painted ceiling with repeated patterns. Ornate bowls of various fruits such as grapes, cherries, bananas, pears and peaches are depicted. The walls are decorated with a stenciled floral border which flank the ceiling, and painted panels that create the illusion of columns in the four corners of the room through the use of negative space.
Two painted portraits, free from the architectural structure, are hung on the Northern most wall. These represent both Mr.Goduto and his wife, Babiana. Mr. Goduto passed away in 1990.
Shortly before his death, Mr. Goduto had retouched much of the painted surfaces in the home. Alfred Goduto learned to paint in a prisoner-of-war camp in India during the World War II, taught by a fellow prisoner-of-war who had been an art teacher in Venice. The artwork remains vivid and only minimal signs of damage are evident. Mr. Goduto is survived by his wife Babiana, 88, who still lives in the house.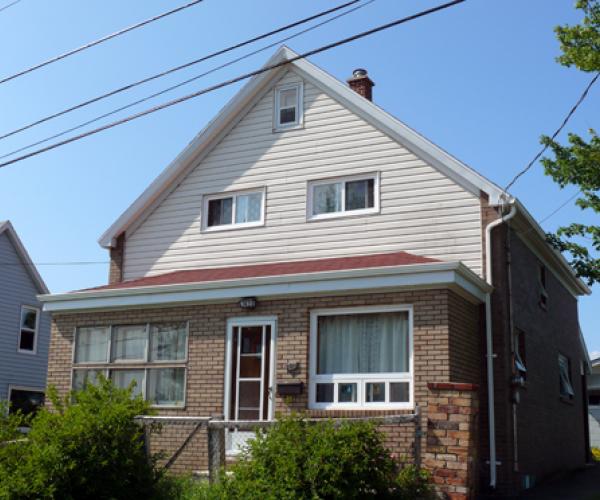 County:
Province:
Property Type:
Herititage Designation:
Public: