You are here
Doucette Residence

The original house built on this site was destroyed by a fire and the home that exists today was built for Mr. Louis Pottier around 1900.
At this same time, the pressed tin ceiling was installed in the front parlour and subsequently, the recessed panels were painted by Melbourne Surette (b.1870 – d. 1960) a painter and musician from Ste. Anne du Ruisseau.
The 18 square, rectangular, circular and oval panels depict scenes from the life of the maritime heroine Evangeline (oil on tin). Various panels also serve to represent the four seasons.
The painted artwork is completely original but the raised background surrounding them has been recently painted with a fresh coat of white house paint. The painted panels closest to the front windows are in poor condition; the paint is flaking and cracking and the scenes are, in most cases, barely recognizable.
Mrs. Doucette attributes this deterioration to sunlight and to the fact that the home sat vacant and thus un-heated for some time. The North Belleville house remained in the Pottier family for some time. Louis Pottier's grandson, Alphonse Pottier and his wife Josephine, would be the last Pottiers to own the home.
In 1987 the property was purchased by the current owners Camille and Rita Doucette. The couple made extensive renovations to the turn of the century home. The kitchen was completely gutted and renovated, a small back porch was removed for reconfiguration, and a second floor bathroom was added.
It should be noted that the painted ceiling in this home was featured in City and Country Home Magazine. The 1990 article was written by decorative arts researcher Cora Greenaway.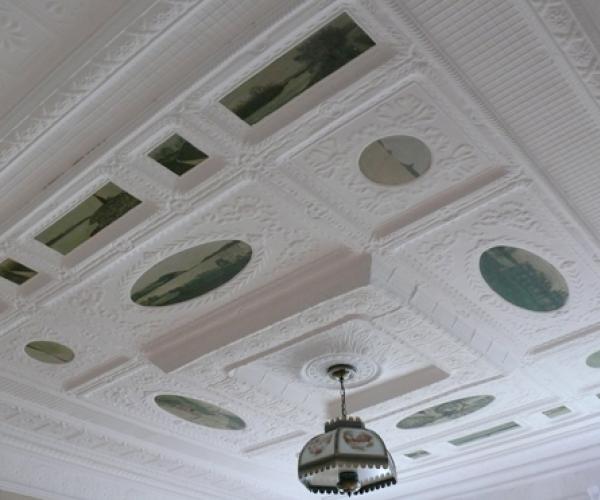 County:
Province:
Property Type:
Herititage Designation:
Public:
Construction Details:
Construction Date: ??-??-1900 Builder Name: