You are here
Lomas-Anderson Residence

The house was constructed in August 1898 by a local builder from Senora for a Mr. John Hugh MacDonald. When Mr. MacDonald passed away the property remained vacant for many years.
As such, extensive weather damage, paired with destruction at the hands of vandals, left the house in shambles. When Mr. and Mrs. Lomas purchased the home in 1970, it was in part to save the rich artistic history hidden away in the home's parlour and first and second floor halls. The pair consulted with Nova Scotia Museum who, unfortunately, were not able to offer restoration assistance at the time. Mr. and Mrs. Lomas completed some basic repairs with the help of local assistance. A young man, Donald Mallory, helped with the painted surface restoration.
In 2006 the front parlour was restored anew by Mr. Brian Porter, a local artist trained at the Nova Scotia College of Art and Design and a member of the Atlantic Cathedral Painter Ltd. Mr. Porter, along with four assistants, completed the restoration in a two week span.
Little of the original painted surface had survived but enough remained for Mr. Porter and his crew to copy stencils and re-create the missing sections of the original free-hand wall frieze and ceiling medallion.
Luckily, the original painted surfaces in the first and second floor hall survived and remained in fairly good condition.
The artwork in the home was completed in 1903/04 and it is speculated that the French Canadian painter, Ozias Leduc (1864-1955), was the artist. Leduc was in the area at the time, as he had just completed his commission at St. Ninian's Cathedral, Antigonish, NS. However, it is more likely that the artwork was done by some, or all of Leduc's assistants, J.P Allaire, Raoul Ducharme, L.P. Martin and Dollard Church.
An inscription on the mantel found in the neighbouring 'twin' house, JRMD, may attest to this. Contrary to the Lomas-Anderson residence, little interior decorative painting remains in the neighbouring Cruickshank house.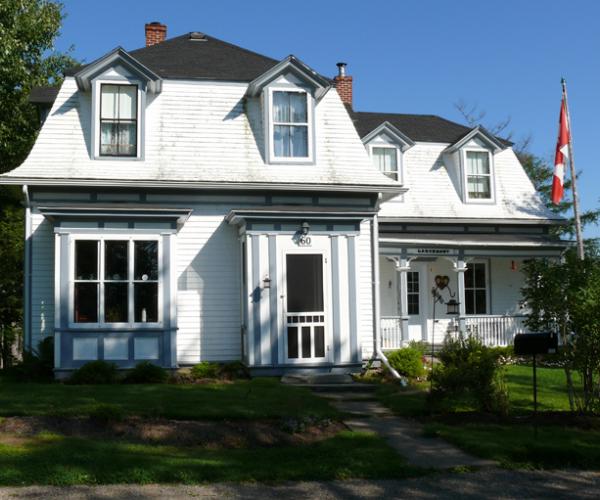 County:
Province:
Property Type:
Herititage Designation:
Public:
Construction Details:
Construction Date: ??-08-1898 Builder Name: John Hugh MacDonald